Dr. Juanee Surprise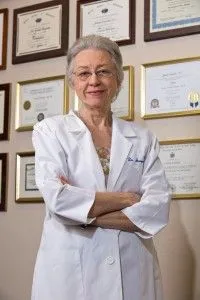 A Summa Cum Laude graduate of Life University (the largest Chiropractic college in the world) and former registered nurse, Dr. Surprise has been in private practice for 40 years and in the medical profession for 57 years. She is board certified in the specialty of clinical nutrition. She is certified in naturopathic medicine and indigenous medicine. Dr. Surprise also holds certifications in two chiropractic techniques, which she has taught on the postgraduate level, as well as Basic Meridian Therapy/Acupuncture. The techniques are Nimmo Receptor Tonus Trigger Point and The Thompson Technique.
The methods Dr. Surprise uses helped people who suffer from most health issues associated with the neuromusculoskeletal effects of undetected nerve damage and vertebral subluxation.
The only chiropractor to have been awarded 4 different diplomates and a fellow in nutrition, Dr. Surprise has been the author and lead instructor for four chiropractic college/university postgraduate nutrition diplomate programs and has taught nutrition, technique, and pain management courses for over 26 years.
Nationally recognized, listed in Who's Who in Medicine and Healthcare in their initial publication and recognized as a Top Doctor in 2014 and 2020, she has lectured for chiropractic colleges, state associations and nutrition companies as well as authored and given multiple lay lectures on health topics.
Past President of the Chiropractic Board of Clinical Nutrition, the American Chiropractic Association Council on Nutrition and the American Chiropractic Board of Nutrition, Dr Surprise holds membership in several national and state professional organizations.
Often interviewed by writers of nutrition and health articles as an expert source, Dr. Surprise has authored published articles on nutrition and co-authored the chapter on nutrition in Contemporary Chiropractic, a chiropractic text. She has hosted talk shows, "To Your Health" and "Health is Wealth," on both radio and internet radio, respectively.
In addition to direct patient contact as a practitioner, her goal is to help as many people as possible by sharing health, nutrition and pain management information to interested professional and lay persons. She would be happy to speak to your company, organization or group.
Have a question? Please give us a call at (940) 999-6868 to request an appointment with Dr. Surprise. You will be glad you did.
NOTE: Due to privacy rules, individual health information will not be sent or discussed under non-secure email without written consent.
---
"At one time I was on twelve medications and 20+ supplements, trying to beat the bad wrap of having fibromyalgia, high blood pressure and cholesterol, restless legs, sleep apnea, allergies, chronic pain and on and on. Four weeks under Dr. Surprise's care and I have dropped a dress size and 15 pounds, my target weight. Was it hard, not at all. The incredible part is I have learned to eat and cook healthy. The menus in the how-to-guide and the one produced by Dr. Surprise, are amazing. I never thought I would be eating cauliflower rice, much less loving it! She is now working on my trigger points and I can almost imagine the pain being released by her fingertips in Trigger Point Therapy. Not only do I look great but I am sleeping a good eight hours, and I am able to do whatever I want without fear of intense pain. Dr. Surprise, does what doctors wish they could do.Thank you Dr. Surprise." - Catherine S.